Tax is one of the most dynamic issues business face today. The need for compliance is at its very high as revenue authorities world over become more vigilant. We have expertise in both local and international tax matters. We help organizations to efficiently plan for and meet their tax obligations while remaining compliant.
Our tax services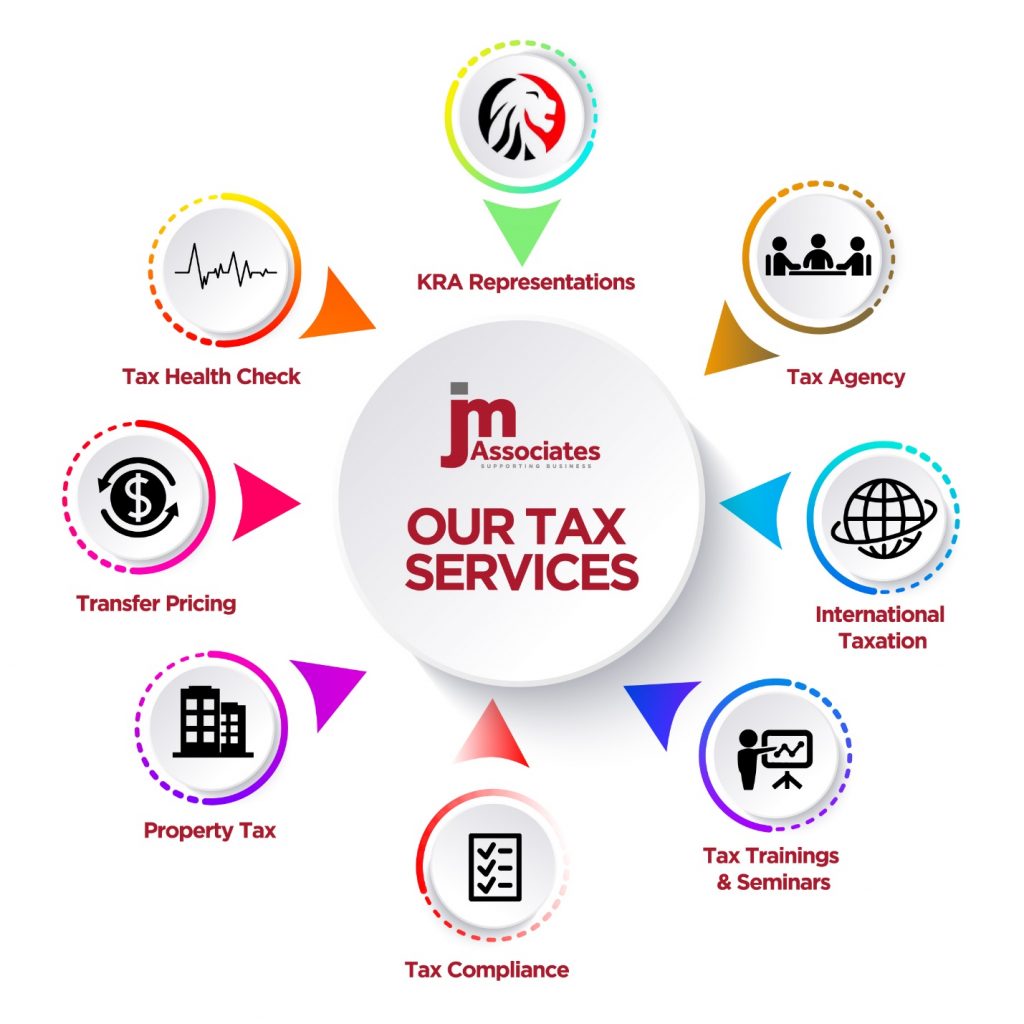 Tax Health Check
A tax health check or Tax audit is a methodological approach that we adopt in reviewing financial transactions with an objective of advising on the nature and extent of compliance as far as tax is concerned
In the review, we are able to observe areas that organizations can confront in a bid to minimize on these tax exposures. At the end of the review, we are able to help organizations come up with a formidable tax plan that minimizes on tax risks and maximizes on tax opportunities and help re-frame tax objectives and goals.
Here are the key areas of focus in undertaking this assignment.
• Areas of tax risks
• Areas of tax opportunities yet to be utilized
• Measures available to the company for tax planning purposes
Tax Compliance
Our vast experience in this field has enabled us to deal with the tax affairs of corporate as well as individuals in various industries and sectors.
Our Services include
Computation and submitting statutory tax returns of companies and individuals on the due dates;

Review annual Pay as You Earn (PAYE) returns followed by submission on due dates;

Various tax computation and filing including VAT, Withholding Excise duty among others;

Instalment tax computations and advisory on due dates;
Computing and advising on year-end corporate taxes payable and due dates of submission;

Reviewing of accounting systems and determining that there is sufficient compliance with all tax requirements.
Property Tax
The property sector plays a vital role in the economy and both Kenyan and international developers and investors continue to find Kenya as an attractive investment proposition.
There have been numerous developments in the tax rules relating to both residential and commercial property. You therefore need to ensure, now more than ever, that your property tax matters are being managed effectively and that hidden pitfalls are avoided.
We provide property tax advice throughout the full property life cycle – from acquisition, lease and holding property as an investment, to refinancing and restructuring, development and, ultimately, sale.
Transfer Pricing
Today the world is a global village and businesses too have not been left behind as they too have undergone globalization.
The numerous amount of transactions across borders has resulted to the need to come up with a way of determining how the transactions should be priced, thus the concept of transfer pricing.
We help organizations to identify all the related party transactions and conduct a benchmarking analysis to ensure all transactions of this nature are priced at arm's length in line with the requirement of the Kenya Revenue Authority and the Organisation for Economic Co-operation and Development (OECD)
International Taxation
The business environment today knows no borders, yet the international tax landscape has never been more complex, making it increasingly difficult for organizations with global interests to comply with these regulations.
We help you align your international tax planning with your business strategies. Leveraging on our membership of Antea International an association of over 70 leading accounting and business advisory firms based in 80 countries worldwide, we will provide a combined global solution
KRA Representations
The increased move by the revenue authority in ensuring tax compliance has resulted to the continuous need for compliance checks and tax audits.
We assist our clients to go through the process seamlessly by acting as your representatives in the matter and ensuring a smooth exercise that does not disrupt the operations of the business.
Tax Trainings and Seminars
The ever changing tax regulations necessitate the need for continuous learning and familiarization of any tax changes.
We offer tailor made trainings based on the organization or individual needs, and demystify any changes in the tax laws by not only helping you understand the theoretical aspect, but also offering practical solutions that suit your business needs.
Our other tax services include;
Assisting clients in getting tax exemption certificates;

Acting as your tax agents and attending to routine queries by KRA;

Tax planning advisories to help a business manage taxes;

Registering businesses and individuals for tax;

VAT Audit and facilitation of refunds where applicable;

Filing of monthly returns such as PAYE, rental income tax, VAT, WHT, statutory returns among other monthly compliance taxes.